In 1954, Colonel Harlan Sanders barged into Darell Gillam's Kokomo restaurant and asked if he wanted to start selling Kentucky Fried Chicken.
Gillam said yes – and became only the second person ever to sign a KFC franchise in the country.
Gillam, who became a kind of local restaurateur in Kokomo and served as a president of the Indiana Restaurant Association, passed away on Oct. 19 in New Port Richey, Florida. He was 94 years old.
+1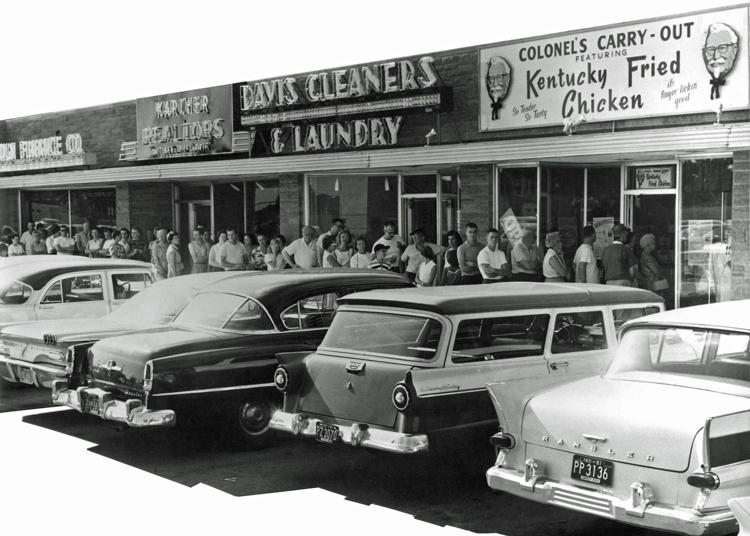 Crowds line up outside Darell Gillams' first carryout KFC at 312 E. Markland Ave. The local restaurateur started the second-ever KFC franchise in the country in Kokomo. Photo provided by the Howard County Historical Society.
The 1941 Greentown High School graduate said he had no idea who Col. Sanders was when he walked through the doors of Gillam's Restaurant located along then U.S. 31. But the Colonel made a strong sales pitch for his "finger lickin' good chicken."
"He asked me when I wanted to start and I said as soon as possible," Gilliam said during an interview with the Tribune in 1979. "So he said, 'How about now?'"
Sanders took Gillam out to his old, beat-up Cadillac and pulled out big pots and a pressure cooker. The Colonel took off his coat and rolled up sleeves, got out a 25-pound bag of flour and all his spices, and started cooking his Kentucky Fried Chicken right there.
"The customers in the dining room loved it," Gillam said. "That's how he started to sell all his franchises; he is a colorful, convincing fellow."
Still, the then 31-year-old Gillam was not ready to give up his own restaurant just to sell the Colonel's chicken recipe, which wasn't even remotely famous at the time. But the Colonel kept on hustling.
"The next morning I found the old Colonel had taken all my classy placemats off the tables and replaced them with Kentucky Fried Chicken placemats," Gillam said. "He took off the nice stemmed glasses I had on the tables and put his little water glasses on. At the waitress stations he had put up his advertising signs. Well, I walked in and was shocked. I told him, 'Hey, Colonel, you can't do this to my restaurant.' He told me I was making a big mistake and told me to think about it."
Gillam ended up selling Kentucky Fried Chicken at his own restaurant for seven years before he decided to open the city's first standalone KFC restaurant at 312 E. Markland Avenue. The new eatery was an instant success.
On opening night in 1961, he advertised a two-for-one sale, and lines stretched a block outside the door. Gillam said he had to drive to Fort Wayne, where the only other KFC was being sold in Indiana, to get more chicken.
"I couldn't fry it fast enough," he said. "People waited in line for two hours just to taste this chicken. And no one even knew about Kentucky Fried Chicken or Colonel Sanders then."
About three months later, Gillam delivered Colonel Sanders his first royalty check.
"He had tears in his eyes – he's a very sentimental man – and said, 'Darrell, can I come up and see your operation?' We've been friends ever since.'"
+1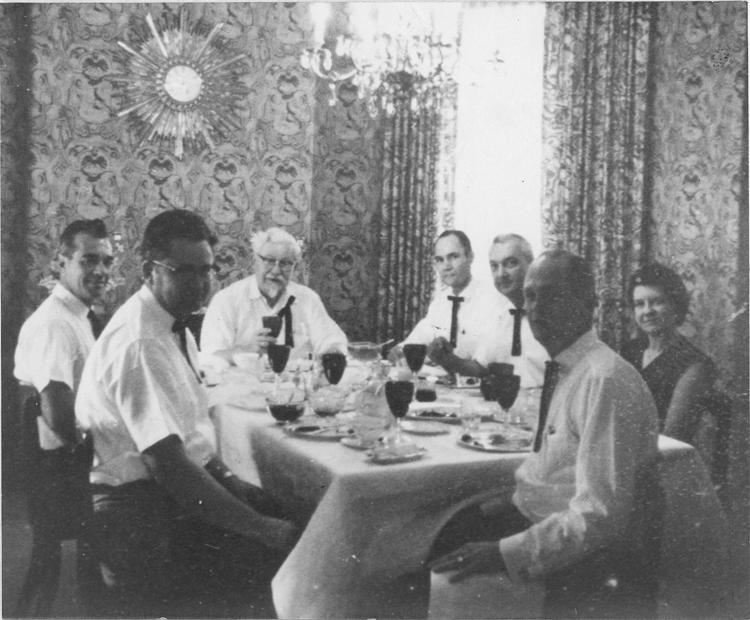 Darell Gillam is seated second to the left of Col. Sanders during a get-together at Sanders' house in Shelbyville, Kentucky. Gillam and Sanders stayed friends after he started the country's second KFC franchise in Kokomo. Photo provided by the Howard County Historical Society.
In the 1970s, Gillam owned three KFCs in Kokomo and six in Illinois. His Kokomo restaurants earned second place worldwide sales awards for cities with 40,000 to 60,000.
Gillam ended up being elected president of the Indiana Restaurant Association, and also served on the National Advertising Board and the National Franchise Advisory Committee for KFC.
He was commissioned an honorary Kentucky Colonel on March 25, 1966, by Kentucky Governor Edward T. Breathitt. On Oct. 5, 1972, Gillam received the State of Indiana Council of The Sagamores of The Wabash from Gov. Edgar D. Whitcomb.